Digital at Dunn Diehl Dental
We live in a connected world. The faster and simpler the connection to our customers, the better for our business and theirs. That's why Dunn Diehl utilizes the 3Shape TRIOS Ready program. TRIOS Ready cloud-connects dental practices and labs. It means dentists using TRIOS can simply connect with Dunn Diehl to share scans, discuss cases and much more. It means Dunn Diehl can receive and work with TRIOS digital impressions.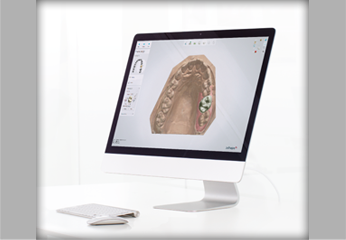 Our Dental System™ brings together 3D scanning, CAD modeling, order management and communication tools. We've Improved treatment by combining all types of patient images such as surface scans, CBCT, face scans, patient photos, intraoral images and more. We have the highest quality scanner and mill available today, and are using the highest quality material to ensure your restoration is of the highest quality. Our products are simply unmatched in our industry, allowing us to offer a lifetime guarantee on our crowns and a five year guarantee on our removables!
Dunn Diehl Dental Laboratory
Old-fashioned customer care isn't a thing of the past, even in the CAD/CAM era. At Dunn Diehl Dental Laboratory, we serve North Dakota and beyond with the care shopkeepers on Main Street used to provide their regulars. We craft everything you need for your dental restoration, from patient-specific abutments for dental implants, flexible to cast removable dentures,or crowns made with your choice of material – PFM, IPS e.max®, traditional ceramic or full-contour zirconia – and treat you like a neighbor in the process. At Dunn Diehl Dental Laboratory, you can rest assured that
"A Better Experience Begins Here!"
In fact, we are using the highest level of technology to deliver the best and most consistent results. We pride ourselves as being a full-service laboratory that is at the forefront of technology. Since opening our doors in 2005, our laboratory has made it a point to embrace CAD/CAM manufacturing into the workflow. This is a priority of ours because we want to stay ahead of the curve, and do everything in our power to reduce margin error, while producing tomorrow's products today.
Products & Services
IPS e.max
________________
Zenostar YZ Zirconia
________________
Zenostar Full Contour Zirconia
________________
High-Translucency Zirconia
________________
PFM
________________
Full Metal Crowns
________________
Telio Temporary Crowns
________________
Custom Abutments
________________
Custom Shade Matching
________________
Complete Dentures
________________
Cast Partials
________________
Acrylic Partials
________________
Esthetic Resin Clasps
________________
Denture Repairs
________________
Relines
________________
Soft Liners
________________
Variflex Nightguards
________________
Laser Welding